History has remembered the kings and warriors, because they destroyed; art has remembered the people, because they created.
– William Morris
My visit to Standen House was the result of happy chance and coincidence. Flying in to Gatwick, I had researched places of interest en route to the south coast and on a whim we decided to swing past and take a look. Am I glad that we did!
Entering the grounds of the house 'crunchingly' along a gravel drive, we passed an imposing sandstone quarry face from where, we later learned, rock was gathered for house renovation and redesign. Standen itself wasn't immediately visible from the drive, masked by barns and cottages that form a courtyard behind it. Having parked the car and after a delicious lunch of roast swede soup and a thick wedge of crusty bread with butter at the barn cafe, we wandered through the courtyard arch to the house.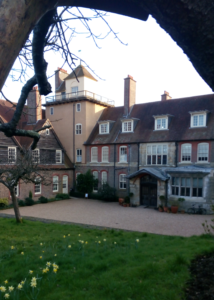 Designed by Philip Webb, taking inspiration from the local Sussex vernacular, and furnished by Morris & Co., Standen was the Beales' country retreat from 1894.
Curious in its shape and aspect, Standen's intriguingly joined wings and roofs are a result of Philip Webb's use of existing farmhouses occupying the site in his plans and design. This expertly performed labour of addition and incorporation leaves the visitor eager to explore how each of the sections could possibly fit together.
Once inside though, any sense of awkwardness is forgotten. In fact, Standen is remarkably cosy despite its sprawling size: 'not a grand house', said the visitor brochure, but 'a family home'. Certainly it manages to be quirky and delightfully personal even with its artistic prowess and beauty. Somehow after greeting each space with admiration at the care, craftsmanship and detail within, the room generously reciprocates, warmly inviting you to make yourself at home and share stories over tea and cake…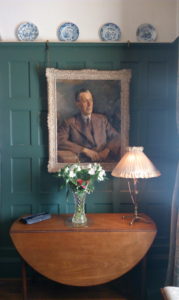 The dining room was a definite treasure. Apparently William Morris had assured Webb that dark green was the best colour against which to display blue and white china. Who would have thought it? And yet gazing spellbound at the walls we were instantly convinced. Who could have possibly thought otherwise? The impressive dining table was overlooked by a fantastically intimate and endearing tableau of young girls at breakfast one the one hand (the blue of their pinafores mirroring that of the plates on display) and Sir Samuel Beale himself on the other. In fact, even Dobbin the family rocking horse was present for supper, although the room guide assured us that he, as well as some other items, were only here temporarily while the Billard Room underwent renovation. She also informed us that one of the hardest parts of her job had become preventing people (especially elderly gentlemen!) riding Dobbin, already rocked to distraction in his old age…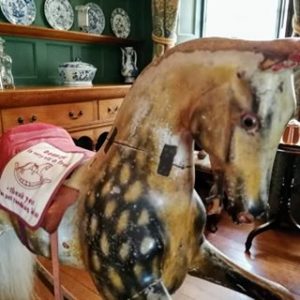 My favourite room, however, was the ladies' morning room (top picture and below). Books, ceramics, a corner to read or do embroidery in. All with a view of the land and gardens. Stunning. For me this room summed up the beauty of the house as a whole: Fantastically decorated with hand-carved, wonderfully selected pieces and exquisitely dressed in William Morris' inspirational and sometimes intense fabrics and wallpaper. To be honest, I'd never been able to imagine quite how you could decorate a house with Morris paper without the room feeling claustrophobic or robbed of relaxation. Yet Webb cleverly managed to use both extravagant wallpaper and elaborate furnishings without overwhelming the space. Perhaps it's the cream painted fitted dressers and bookcases that give space, light and breathe freshness to the room?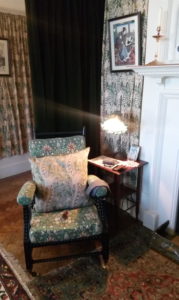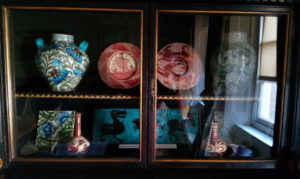 By far the best surprise of the trip was discovering that not only had the Beale family been collectors of William de Morgan ceramics, but that the William de Morgan Foundation had also contributed to the display collection too! William de Morgan is of course famous for his 'Persia-ware'; work inspired by oriental and Turkish (16th century İznik) motifs and colour. He is also credited with being the ceramicist to rediscover the lost technique of lustre-ware, which had attained popularity in 9th century Persia and spread through the Middle East before traversing the Silk Road to Spain where it resurfaced in 16th century maiolica. Admiring his work in the family cabinets I felt like a child with my nose pressed to the glass of a sweet shop. The mysterious beasts, emphatic colours and outrageous vibrancy of his work are deliciously enchanting.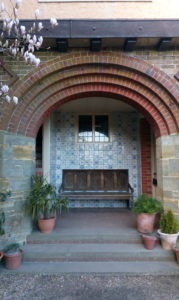 Before we left we meandered through the gardens: taking shelter in a Delft-like tile covered garden porch, clambering through the craggy stone quarry and clomping over magnolia bridge to discover the long walk along higher ground. Not too hard to imagine midnight clocks here striking thirteen, a sand fairy hidden in the quarry garden or even a secret garden hidden amidst the trees. Add to these the cactus and succulent-filled sun lounge just off the billiard room and my joy was complete (I collected cacti before moving to Istanbul – love them!).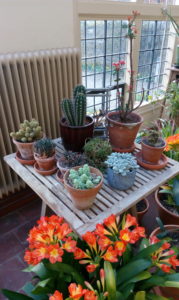 It felt, I realise, deeply emotive to wander through a house that adores and celebrates the culture and craftsmanship of the countries I love. But it also evoked wonder: The Beales miraculously managed not only to voyage the world through their abundant collection of colour, cultural treasure and masterfully worked art from near and far, but also to bring it all lovingly together to create not a museum but a home.