Asmanın Bereketi (The Vine's Blessing)
The vine motif is common throughout ancient history and is synonymous with blessing, abundance and fruitfulness. The form also appears in İznik traditional çini, albeit with an often regulated form (in continuous designs) and with traditional colours (bright red grapes and turquoise or green leaves with brown stems).
I was interested in taking the motif and giving it a freer, more realistic retelling, taking inspiration both from the Turkish ceramic past and from my own UK heritage through William Morris' rendering of the vine for book illustration. What emerged was something quite different!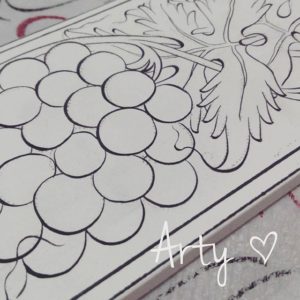 I decided to stray from classical İznik influences and with the help of my tutors, mixed a hybrid paint that produced a wonderful purplish tone with hints of deep red and blue depending on how well you had shaken the jar before applying! It was quite an effort to make every bunch of a similar tone, not least after running out of the one-of-a-kind newly mixed paint half way… Below is a corner of the completed piece before firing.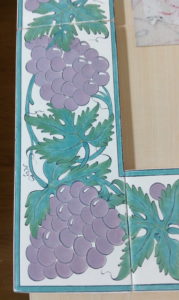 I had fired 3 small paint sample tiles before painting the final design to test for colour combinations. None of the samples came out very well and I was extremely nervous that I would be disappointed with the result after so much hard work. Surprisingly (and thankfully), the final firing exceeded all of our expectations and produced exactly the colours I had hoped for. Thank you kiln!
I was honoured to have this piece included in exhibition in central Istanbul in May/June 2017.